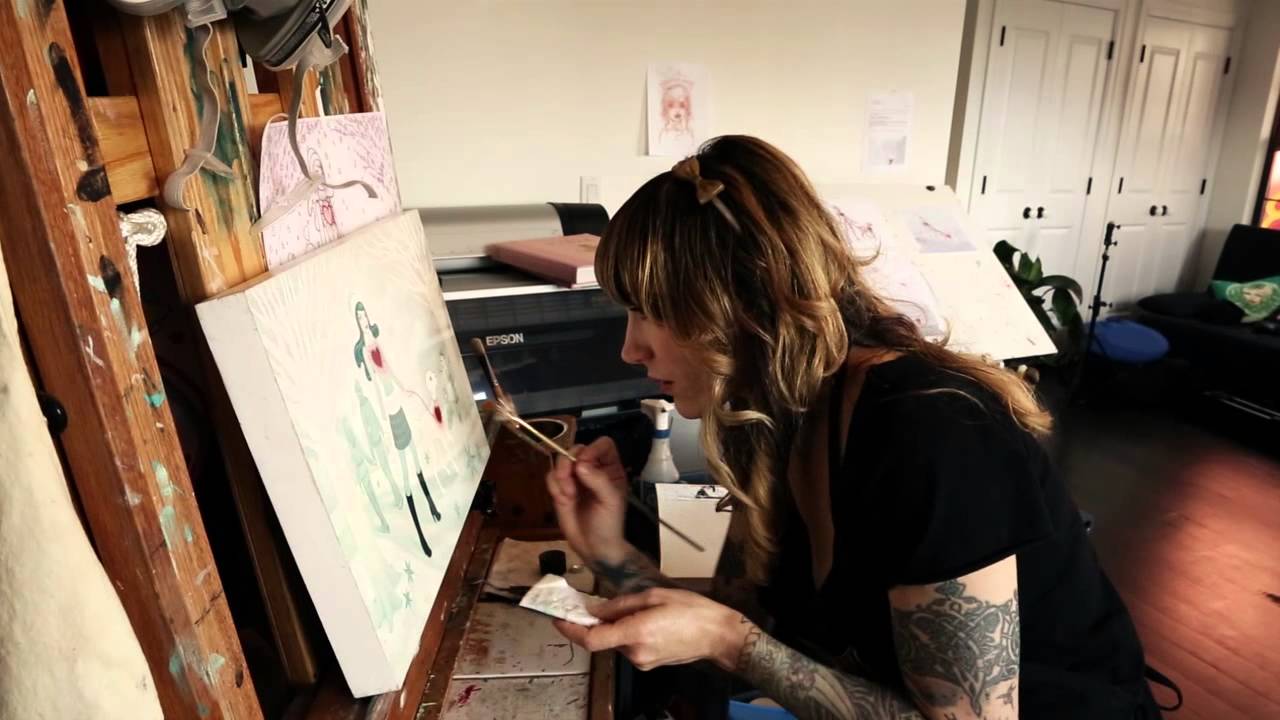 Jun 04, 2013
Poster Girl Of Cool

Tara McPherson's sun-drenched Williamsburg studio is the kind of place that inspires New York real estate envy. But high ceilings and outdoor space aside, it was the welcome wagon of folks ready with friendly greetings and smiling faces including McPherson's cooing baby boy that had us feeling right at home. Tara is petite, clad in a black t-shirt that neatly framed sleeves of tattoos—a pitch-perfect contrast to her manicured bangs and coiffed blond tresses, which she has accessorized with an adorable off-to-the-side bow. You could say her personal style is indicative of her art: illustrative, feminine and soft, but tough around the edges.

Later in the day we got to skirt the line forming around the block at her art boutique, the Cotton Candy Machine, to get a look at the most recent show before doors opened. Though there was a range of artists in the exhibition, all the work was exciting and imaginative and we wanted every piece.

Does art come naturally to you?

Art definitely comes naturally to me. I started figuring out what I wanted to do after I got fired from a book store for giving away coffee and cookies in exchange for music from the guy next door [laughs]. After that, I started working at a Japanese animation store and that really kind of provoked this interest in character-based artwork and wanting to make my own characters and make all the stuff and cool accessories that come with it and I just thought, "I want to do this! This is awesome."

How would you say your art has evolved from then until now?

It's been a natural progression. I didn't force a style too much when I was in school and at the time it maybe held me back a little bit, but in the long run the style and the fluidity that came from it was just really honest. I didn't have to think about how I was drawing, I just did it and it just started to look like me. I'm always pushing myself to learn new techniques. I treat each solo show as if it were my thesis — building it, researching and pushing myself to hone different styles.

Tell us about your process

I start with writing and researching and I do little doodles. Then I scan rough drawings, enlarge them, choose a layout and put it on the light table where I do my main drawing. There's something captured in that fluidity and looseness in the roughness – if I try to re-draw it, it gets very stiff. There are times when I'm like, "This sucks, I suck… Oh wait, this is really good! Ok, it's working." And then there's the end when I'm really finishing it and I get excited and it's an amazing feeling that makes it all worth it. 

How do you know when you're done with a piece?

When it's due [laughs]. I think it's important to figure out what you can do within a certain amount of time. I try to be realistic about it and if I have [x] amount of time, that's how it's going to be.

What lies ahead?

I feel fortunate that I've gone far beyond what I had initially dreamed of. I get to make awesome toys with Kid Robot and see my characters come to life, I get to paint amazing solo shows with Jonathan Levine Gallery and Merry Karnowsky in L.A.— all of these galleries that I've wanted to work with forever I'm working with now and it's so wonderful. So I would say I want to continue on this path. I want to paint, I want to make fun art and work for awesome bands that I love, and just paint.